Post by Cindy on Jun 12, 2015 12:20:32 GMT -5
Since we lost our other how to thread about photobucket and pictures, I figured I'd better do another one.
The first thing to do is check out your settings in your photobucket account. Obviously, I have to use my account to show you how to do this, so yours will have a different avatar on it, while mine has a small fresh hope logo. You can find this on the top right hand side of any photobucket page. It's in between the search bar and the cart button, as you can see in the screen shot below.



click on your avatar like the arrow is pointing to, and then click on settings and you'll be taken to a page like this below: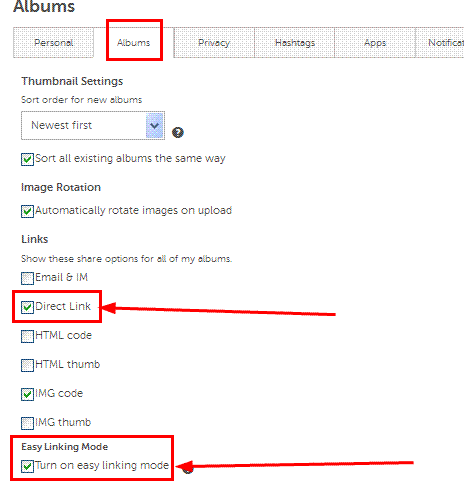 Make sure you are on the "albums" tab and look down to where you see "Links". You want to have "direct link" checked there, plus any others you want. Also make sure you have "Easy Linking Mode" checked. Click the save button at the bottom. You can check out any of the other tabs you want to and fix them how you want them. FYI: any picture or graphic you want to share here or anywhere else, must be in a public album, NOT a private one, or you won't be able to share it.

To upload a picture or graphic to your photobucket account, go to the upload page, and I'll show you how to upload one from your computer. When you go to the upload page, you'll see "upload to" on the top and your bucket is usually the default for that. If you have made other albums and want to put your picture in one of those, click the arrow by "your bucket" and choose which album you want to upload it to. Then click the "choose photos and videos" button as in the screenshot below and choose your photo to upload. If you want to upload more then one at a time, hold down your "ctrl" button on your keyboard all the time you're choosing your photos to upload. You can upload as many at a time as you want to that way. The ctrl button is usually on the left side of your keyboard under the shift key.





Once the photos are uploaded, you'll see them at the bottom of the upload page and a link to the album you uploaded them to at the top, so you can easily go to the album if you want to.

In your bucket or one of your albums, you'll see thumbnails of your pictures with links underneath each one. To share a picture or graphic here you need the DIRECT link as shown below. Right click on it and copy it to share on fresh hope.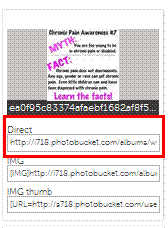 If you are just looking at a single photo or graphic and not an album, you'll see the links on the right hand side of it, and it will look something like the one below, depending on how many links you've checked in your settings: Again, to share on Fresh Hope, you need to copy the direct link.




On each page you'll also see the following symbols:




If you click the link one (second from the end) it will give you a link to share ALL the photos in the album. It doesn't give you links for a single photo, so you can't use that on FH.

So you've copied the direct link to the photo you want to share here. You click the little picture button and it will pop up a box which says "insert Image". Make sure the https// that shows in the first box is highlighted and paste your link code into that box. (you don't want their http// to be added to your image link, which is why you need to make sure it's highlighted when you go to paste your link in there. You can leave the alt text box blank and click "insert image". You're all done!




You can only share one picture or graphic at a time this way. You can put as many as you want in a post, but you must do each one separately.

Hope this helps! BTW, the same procedure of getting links can be used to put graphics into your personal smiley box as explained in an earlier post. For example, one of the graphics I have in my personal smiles box is the one below, so as you can see, you can have more then a little smiley face graphic in there:







If you have trouble logging in or registering, please go here for help: support.proboards.com/board/74/users-members I don't control that part of the board so cannot help you with it, so telling me about it won't help. But the folks at proboards seem to be very good at helping with any kind of problem related to the board.

There is also a forum "help" guide that tells you how to do everything. It's located here:

www.proboards.com/forum-help-guide